Posted by Nick Poyner on November 30, -0001 at 12:00 am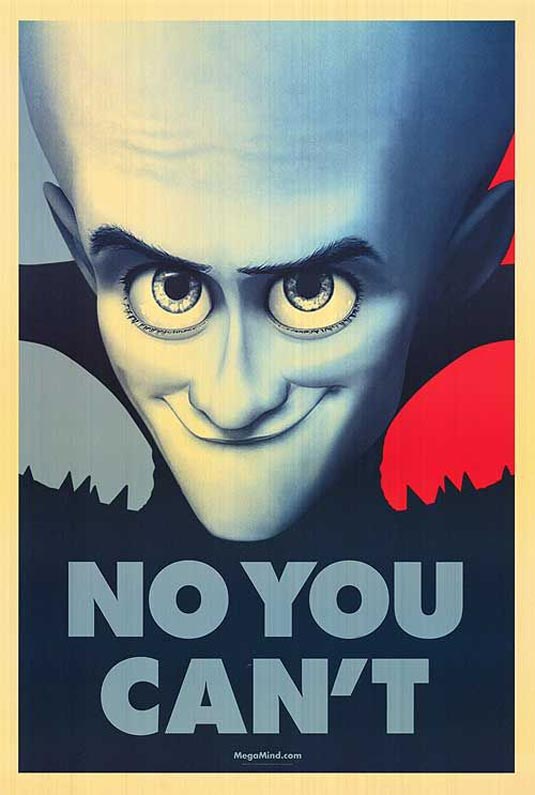 Before I do my review, can we talk about movies coming in pairs this year? There was The A-Team and The Losers. We got Killers and Knight & Day. Now Despicable Me and Megamind.
Now, these movies aren't necessary identical, but two animated movies about likable super villains in the same year are definitely more than most other years by anyone's count.
Anyway, Megamind is about an evil genius who tries to get the girl and defeat the hero. He is ugly and has a big blue head. If you can't see the twist at the end, you may have never seen a children's movie before. Here's the other thing, was this a children's movie?
I'm not talking in a dirty or crude way, but, while watching Megamind in a packed theater, most of which were kids, I found myself chuckling more than most other people. Many of the laughs were also coming from viewers over the age of twenty. (Personal highlights include of the Obama-esque posters [see above] and Megamind constantly referring to Metro City as Metr-A-city.) My guess would have to be the actors behind the characters.
A cast of Will Ferrell, Tina Fey, Brad Pitt, Jonah Hill, and David Cross is impressive to say the least. I would laugh if they sat in a room doing nothing, but they seemed to be constricted by the script. There were plenty of quick chuckles; I'll give it that. The problem, though, is it had more to do each of their quirky, recognizable voices than anything else.
These days, children's movies tend to have plenty of jokes for adults. For that, I am grateful. (Also, I'm sure there are plenty of parents who are much more grateful than I am.) But a good movie's a good movie. And Megamind certainly is not one. Mixing an alternative to typical kids' jokes into a mediocre movie still makes it a mediocre movie, just a little more tolerable; that's exactly what this movie was. I was hardly interested from the beginning and never able to invest in Megamind or his dilemmas.
I'm sure there are plenty of people who are going to find this movie fine, and, you know what, it was fine. But with 3-D prices, there needs to be a reason for me to pay $17.50 a ticket, and Megamind was not that reason. (Also. $17.50?!?! Whaaaaat?!?!?!?) It's not a bad film, but not very good.
RENT IT
4 Comments
Leave a Reply