Posted by Nicholas Rapp on May 8, 2012 at 11:28 am
I loved the Avengers. It was everything a super hero movie should be. I also loved the batman movies, but for a different reason. Batman is a hero, and a detective. The Avengers are pure superheroes. It's important that I make that distinction, because what I'm about to say now is that I liked The Avengers more than The Dark Knight. There. I said it, don't shank me. Joss Whedon did a tremendous job of tending personal attention to each individual character before unifying them as a whole, and because of this everyone can leave the theater with a favorite. My favorite? The Hulk.
Mark Ruffalo took on the reins of playing the big green rage monster this time around. This is worth mentioning as the past two Hulk movies have had different actors, and all in a relatively close span of time. Eric Bana played Bruce Banner in Ang Lee's The Hulk. Ed Norton was approached to play the role but actually turned down the 2003 flick. This is funny because later, in 2008, Norton accepted the role of Banner in The Incredible Hulk, which thankfully was a vastly different story line. Ed Norton crushed this role. I couldn't have seen anyone besides him having played the green guy. But, unfortunately he was very hard to work with. He rewrote Zak Penn's scripts numerous times, inserting characters, and even actors, that he liked, as though everyone would be cool with that. He even tried to get writing credits, but the WGA turned him down. When it was announced that he was being dropped from The Avengers cast list, fans thought the problem was money. Well the President at Marvel Studios set fans straight. "We have made the decision to not bring Ed Norton back to portray the title role of Bruce Banner in the Avengers. Our decision is definitely not one based on monetary factors, but instead rooted in the need for an actor who embodies the creativity and collaborative spirit of our other talented cast members." Delicately worded, and probably an incredibly poignant thing to say. It's disappointing that Norton was the way he was – not collaborative – but I can't say I'm disappointed with the result. Mark Ruffalo, who would have thought, fulfilled the role to satisfaction.
He is such a sweet guy; I couldn't imagine him getting angry. Which is why it is so damn amazing when he does. He nearly loses it for the first time during a conversation with Black Widow. He goes from being perfectly calm to screaming "don't lie to me!" in half a second. I definitely got chills. In this movie The Hulk is more a hero and less a goon. I think they finally got it right.
Most people agree that this is the best Hulk yet. Lou Ferrigno, who was the hulk in the late 70s TV show, says "This is the best I have ever seen on-screen. He looks more realistic than the other two movies. He steals the whole show." Agreed! That moment where Hulk brutalizes Loki in Stark Tower… the best. But the way the Hulk looked has little to do with Mark Ruffalo, other than his willingness to wear a onesie for the CGI. We know Ruffalo did a phenomenal job because the fans want more Hulk in a big way. Marvel's Paul Gitter, President of Consumer Products says "his sales are up in a big way." Upon being asked what Ruffalo brings to the role, Joss Whedon says "Mark is such a delightful mensch it's stupid. His Banner is a bunch of contradictions: graceful and awkward, meek and confident, funny and sad. And contradictions are what the Banner/Hulk dynamic are all about."
This was Marvel's third try at Hulk, and I'm so grateful that it finally worked out. Everyone gets upset. Sometimes I get so mad I don't know what to do with it all – transforming into a green giant would be a tantalizing release for these moments, but also a tremendous burden. Conceptually, the Hulk has every reason to be one of the most relatable, layered, tragic, and glorious of all Marvel's heroes. And Joss Whedon and Mark Ruffalo succeeded at bringing out the best in him. Here's to a Hulk sequel with Mark Ruffalo! Banterers, would some more solo Hulk time appeal to you? And if Hulk wasn't your favorite Avenger, who was?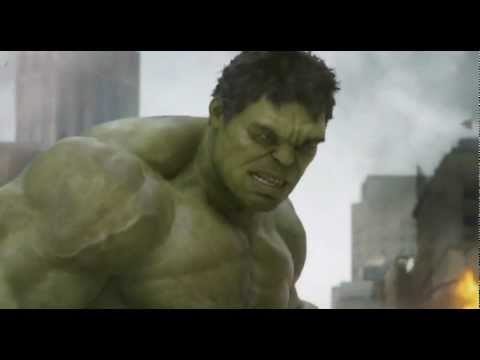 One Comment
Leave a Reply