Posted by Alia Haddad on June 27, 2012 at 9:42 am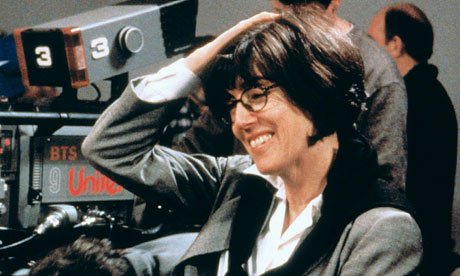 Last night on Monday June 26th, the sad news broke that Nora Ephron, film director and writer extraordinaire, had died. Upon hearing the news, I became immediately sorrowful. I don't count myself as a feminist (huge or otherwise), but I also don't think it takes a feminist to recognize the sorry state of women in Hollywood. Excluding actresses (although I can make a case for that group as well), talented women are notoriously missing from the writing and directing pool of both big hits and great movies, and not to mention the occasional rarity of a movie that crosses both lines. After all, it was only two years ago that a woman, Kathryn Bigelow to be exact, took home the coveted best director Oscar for her great The Hurt Locker. This was the 82nd Academy Awards show.
And so in that vain, I'd like to commemorate Nora Ephron, a woman who was able to break through the boundaries of Hollywood, giving us not only what we recognize as the present day romantic comedy (or chick flick as they have come to be known), but also presenting us with a crop of solid films, romantic or otherwise.
Although she had been working since the early 70s, Ephron broke into the Hollywood scene when she penned the 1989 Rob Reiner crossover hit, When Harry Met Sally, about the complex relationship between a couple of friends living in New York and how it progressed over time. Starring Billy Crystal and Meg Ryan in their prime, When Harry Met Sally was an instant hit (and not to mention, the cause of my personal fashion style choices), and I'd venture to say, changed the role of the woman's picture forever by presenting a relatable, funny lead man as well as a complex, realistic lead female character.
Now a big name in Hollywood, Ephron was able to venture into directing as well, at first writing and directing hits, such as Sleepless in Seattle, Mixed Nuts, and You've Got Mail, all three of which directly influenced (for the better) my childhood. Recently, Ephron penned and directed  Julie & Julia with the little-known Meryl Streep and Amy Adams.
While Ephron mostly stuck to main stream, romantic comedies no one can deny the level of craft and quality that went into each of her projects. A high level not normally seen in their chick flick counterparts, let alone other Hollywood genres.
Woman or not, Nora Ephron had a great impact on Hollywood and will be sorely missed. Now, is it appropriate to take the day off and watch When Harry Met Sally on repeat? I sure hope so.
Comments :
1 Comment
|
Topics :
Movie Business
,
Movie News
,
Rants
|
Tags :
Amy adams
,
Billy Crystal
,
Chick flicks
,
Kathryn Bigelow
,
Meg Ryan
,
Meryl Streep
,
Mixed Nuts
,
Nora Ephron
,
Rob Reiner
,
romantic comedies
,
Sleepless in Seattle
,
The Academy Awards
,
The Hurt Locker
,
The Oscars
,
the woman's picture
,
When Harry America Sally
,
You've Got Mail
One Comment
Leave a Reply