Posted by Nicholas Rapp on July 17, 2012 at 1:03 am
At comic-con, a trailer has just been released for 'Oz the Great and Powerful,' and finally we have something to sink our teeth into. When I first heard about this movie I had no idea what to expect. After 'Oz,' and 'Wicked' I assumed that the world of flying monkeys, witches, and yellow brick roads had been exhausted of any and all further variation. But the trailer below proves the world of Oz to be fruitful still. This world has been a part of American cinematic tradition since it's 1939 arrival, and that it's still talked about seventy-three years later tells me it may live on forever. Banterers, if you never liked the happening of the emerald city, you're out of luck. James Franco and Disney are about to make it main stream.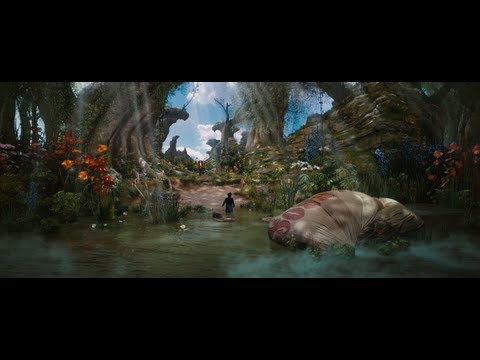 You've just seen the trailer and you've no idea what it was you saw, but it was awesome. Apparently the story follows Oscar Diggs, and we see how our traditionally beloved Kansas circus magician goes on to become the green man behind the curtain. A tornado sweeps Oscar out of black and white Kansas, planting him into a world fresh with opportunity for fame. Everyone's been waiting for the great wizard! Then he meets three witches. They're not convinced he's all that great, and he's worried that they're evil – and we all know at least one of them has got to be. All I know is that the world of Oz has problems, likely caused by evil witchcraft, and he has got to pick up the pieces and make everyone happy. James Franco will play Oz, and Rachel Weisz, Michelle Williams, and Mila Kunis will play the three witches.
I'm genuinely excited to see these witches. We're all used to just two – the good witch and the "bad" witch. The three-witch dynamic has never been tapped into, let alone the green wizard's back story. I see Franco as very fitting for this role, and I appreciate how epic the above trailer is. I do hope this film takes itself seriously.
Leave a Reply