Posted by Alia Haddad on July 16, 2012 at 10:08 am
Banterers, this the week! The countdown to the end (of Christopher Nolan's Batman trilogy) is finally upon us. As I wait patiently with a mixture of excited anticipation and bittersweet dread (how can there really not be any more?!), I wanted to take a bit of time to reminisce about the the first two movies–Batman Begins and The Dark Knight. Specifically, I'm talking about only the best characters in the first two films. And so, without further ado, let me present "The Top 5 Characters in Nolan's Batman Franchise."
5. Rachel Dawes
As great as Nolan's take on the Batman movies are (so great!), I don't think it's any secret that the female characters have been rather lacking. After all, Katie Holmes's portrayal of Batman's love interest, Rachel Dawes, was arguably the worst part of the series to date. My fingers are crossed for Anne Hathaway's turn as Catwoman in The Dark Knight Rises, but she may very well turn out to be the weakest part of the upcoming film. Only time shall tell, I suppose. And so, looking back on the two previous films, it becomes clear that Maggie Gyllenhaal's Rachel Dawes was the most powerful female performance the series has. Say what you want about Gyllenhaal's looks, voice, etc., but I really think it would be difficult for anyone to call her performance lackluster. I mean, who didn't shed a tear in her epic last scene?! Not I, not I.
4. Alfred
Of course Michael Caine's Alfred is on the list of best characters. Alfred is the closest thing to a father figure that Batman has, and what's more? He's eternally wise. Alfred knows exactly what Batman has to do and ensures that he will do his duty, even despite personal repercussions (the hiding of Rachel's letter to Batman is just one ripe example). And to top it off, he's a snarky, cheeky guy. The thing is is that if Alfred was played by anyone else besides Caine, he would run the very high risk of becoming a trite, holier-than-thou character. But, in all honesty, who wouldn't value any advice Michael Caine chooses to bestow upon you? Not I, not I.
3. Harvey Dent/Two-Face
Aaron Eckhart's transformation from do-gooder politician Harvey Dent to vigilante deformed villain Two-Face in The Dark Knight was quite remarkable. So believable was Eckhart's change that it was so incredibly hard to hate the guy. I mean, obviously I didn't agree with the mayhem he was eschewing near the end of the film, but he was so complex, that as the viewer, you not only understood why he was doing this, but you also felt for him. This level of complexity is hard to accomplish, and for that reason Aaron Eckhart has gained his first (and, honestly, probably last) appearance on one of my Best Characters list.
2. Bruce Wayne/Batman
Seeing as this is a franchise dedicated to Batman, I would be remiss if I left Batman off my Top 5 Characters List. Especially because Christain Bale's take on Batman is unlike any others. Thankfully, Bale was able to achieve a depth and level of emotion that none of the other masked-heroes have ever had (sorry George Clooney). Perhaps this is because Bale is generally regarded as a dark guy. Or perhaps he is a star who is terrifying in real life as well. Whatever the case, Bale's Batman helped elevate the franchise to classic status. Well done.
1. The Joker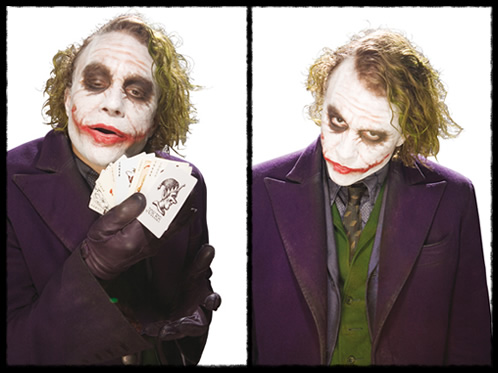 When thinking of the best characters to do in Nolam's Batman series, Heath Ledger's The Joker is an obvious choice. And rightfully so. I mean, the man won an Oscar. And even though it was posthumously won, most people would agree that this Oscar was based on merit rather than guilt (although I still maintain he was robbed when Ledger didn't take home the coveted gold man for his performance in Brokeback Mountain). Anyway, Ledger exceeded every expectation and gave us a villain truly haunting and terrifying. I regard The Joker as the best villain I've seen to date in any film. It surely was an incredible performance, and one that definitely merits this top spot.
Nolan's The Dark Knight Rises opens Friday. Hopefully we'll gain a few more characters to add to the list.
Comments :
Post a Comment
|
Topics :
Lists
,
Movie Experience
,
Movie Marketing
|
Tags :
aaron eckhart
,
Anne Hathaway
,
Batman Begins
,
Brokeback Mountain
,
Christian Bale
,
Christopher Nolan
,
George Clooney
,
Heath Ledger
,
Maggie Gyllenhaal
,
Michael Caine
,
The Dark Knight
,
The Dark Knight Rises
Leave a Reply