Posted by Alia Haddad on August 16, 2012 at 10:32 am
We seem to be in a pivotal moment in the Hollywood blockbuster era. Not only are we invested in this said era more than ever before (yes, blockbusters are not a new phenomenon, but their overwhelming prevalence appears to be at an all new high), but also we are in a time of blockbuster remakes and reboots. Either due to lack of new ideas or the belief that there is something more to add, directors and studios alike–usually under the guise of the latter–are pitching remakes across the board.
And what's more? We're witnessing not just the remakes of singular, stand-alone feature films, but instead remakes and reboots–that is, those sets of films aiming to tell a different tale then the first set–of entire franchises, with the undying hope of changing the face of the original franchise forever. Rather, these franchise reboots aim to not only beat out its original in terms of monetary success, but also in terms of public perception. Now when someone talks about Charlie's Angels, it seems only natural to fondly think of Drew Barrymore, Cameron Diaz, and Lucy Liu bantering with Bill Murray. Farrah Fawcett who?
In this vain, we here at The Movie Banter became interested in the most successful reboots of this kind. Which franchise reboots have been able to transform and transcend the original franchise, becoming not only franchises in their own right, but seemingly becoming the ones that really count? Moreover, which franchise reboots and their main actors were able to do what X-Men: First Class's James McAvoy and Michael Fassbender, Superman Returns' Brandon Routh (there's always the upcoming Man of Steel, right?) and Indiana Jones and the Kingdom of the Crystal Skull's Shia LaBeouf were not able to do for them? And so, for your consideration, allow me to present the Top 5 Most Successful Franchise Reboots.
5. Andrew Garfield as Spider-Man in The Amazing Spider-Man
Just a month after the release of Marc Webb's The Amazing Spider-Man, and only five years after the original franchise ended, it is already amazing(ly) clear that Webb's take is THE Spider-Man movie. What the original Spider-Man series lacked in enthusiasm, charisma, and chemistry, The Amazing Spider-Man more than made up for with the fresh-faces and eternal likability of Andrew Garfield and Emma Stone. Gone is the woe-is-me attitude of Spider-Man and everyone who he encounters, and in its place lies a light, fun, happy kid who also happens to be a super hero. And what does this one change give the audience? A whole-hearted good time, something that was sorely lacking in the first franchise. The Amazing Spider-Man is just the first in what is sure to be a long-standing series, but it already has me (and the rest of America if the box offices are to be believed) convinced: Andrew Garfield's Spider-Man is the only one we need.
4. Daniel Craig as James Bond in Casino Royale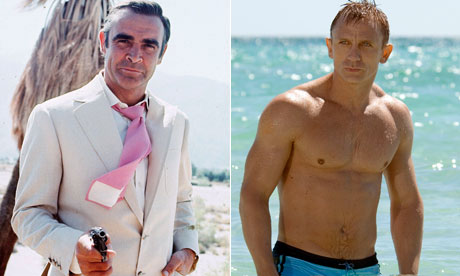 It would be utterly blasphemous and completely betraying my father if I were to tell you that Daniel Craig's good-looking portrait has decidedly changed the face of James Bond. Nope, this isn't an Andrew-Garfield-Spider-Man situation. I maintain that it is instead a different, but not any less intriguing, one. While Daniel Craig as James Bond in Casino Royale, Quantum of Solace, and the upcoming Skyfall has been completely successful in his stab at the the infamous British spy, I see nothing wrong or anything less classic with Sean Connery's take on the same man. What Daniel Craig was able to succeed at (perhaps where Pierce Brosnan and Roger Moore have failed) is in updating Bond for a younger audience, rendering a Sean Connery's Bond not as never-existing, but instead as an outdated model, who bows his head to his successor. Bravo, Craig, bravo.
3. Rooney Mara as Lisbeth Salander in The Girl with the Dragon Tattoo
David Fincher's The Girl with the Dragon Tattoo is an interesting case. Even quicker to the reboot-punch than Marc Webb, Fincher gave us more of a remake than a reboot. Yes, the American version of The Girl with the Dragon Tattoo had a different feel and vision from the original Swedish one, but it still tackled the same plot line and had all of the same characters. Nevertheless, Fincher's highly-rated, yet under-attended vision is no doubt to become a franchise in that a second and a third will more than likely follow. And this franchise has and will continue to define how we (as Americans) see Lisbeth Salander. Rooney Mara is the crucial element here. Even more so than Noomi Rapace, Mara embodied Lisbeth so thoroughly on and offset that it I am still in utter shock and disbelief that Lisbeth and Erika, Mark Zuckerberg's brief girlfriend in The Social Network are played by the same actress. When most of us think of The Girl with the Dragon Tattoo, we not only think of Fincher's film, but also almost solely of Rooney Mara.
2. Mark Ruffalo as The Hulk in The Avengers
Well, this certainly is a strange case and a successful franchise reboot category first, in that while Mark Ruffalo most definitely played The Hulk in Joss Whedon's summer blockbuster hit, The Avengers, he did not star in his own movie that focused solely on the character. And yet we still maintain that Mark Ruffalo did such a good job playing The Hulk in this ensemble cast and that the other two main Hulks to date–Edward Norton and Eric Bana–did such bad jobs playing Hulks, that Ruffalo is now the face (and, not to mention, the cheeky attitude) we think of when The Hulk comes to mind. After two failed attempts by studios and famed directors, Whedon has finally given us a Hulk we can and will continue to believe in. And when not in green Hulk form, that man has the face of Mark Ruffalo.
1. Christian Bale as Batman in Batman Begins
What strikes me as particularly noteworthy when looking at the merits of Christopher Nolan's Dark Knight franchise, is not so much the lead actor's, Christian Bale, turn as Batman, but more of the director's, Nolan himself, turn as franchise creator. Rather, what makes the Dark Knight series so good and so memorable has less to do with Bale and much more to do with Nolan, so much so that when one thinks about any of the three Dark Knight movies, it is Nolan that comes to mind, not Bale. This alone seems to prove the success of the Nolan's rebooted franchise, but is even furthered when one thinks about how far the Batman movies have come from the 1990s. The original trilogy (if one can call it that) was directed by two different directors– Tim Burton and Joel Schumacher– and boasted three different actors who called themselves Batman–Michael Keaton, Val Kilmer, and George Clooney(from earliest to latest). With the Dark Knight series, Nolan not only gave us one Batman in the form of Bale, but he also gave us a unified vision– one that we had yet to see in across any of the live-action Batman films. I think it's fairly safe to say that from now one, when someone says Batman, most people will think largely of Nolan.
So there you have it, Banterers: the top 5 most successful and game-changing franchise reboots. In no way has this list ended, because the reboots keep on a-coming. Will The Rise of the Planet of the Apes, Scream 4, and the upcoming Ghostbusters 4 follow in these films' footsteps? Only time and Hollywood's eyes will tell. Until then, what are your favorite reboots?
2 Comments
Leave a Reply