Posted by Rande Iaboni on October 14, 2012 at 4:00 pm
With Halloween just around the corner I've got horror on the mind. And while there are plenty of things to talk about with the current scary releases, I thought it would be nice to take a look at the future. Two horror films in specific have treated us to some goodies and I have to admit, while horror movie remakes can for sure end badly, I am definitely intrigued with these ones.
First up is the remake of Sam Raimi's horror masterpiece, 'The Evil Dead.' While I was very upset to learn that Bruce Campbell's iconic Ash wouldn't be making an apperance, I have to give the makers of this film credit for trying something new here. Perhaps they will introduce us to a new horror icon? Either way at the recently wrapped 2012 New York Comic Con some footage from the film was shown to fans and it apparently received an overwhelmingly positive response! That means a lot coming from Comic Con attendees. And with this good news comes the first official still from the film via Entertainment Weekly, check it out below!
Now that is what I'm talking about! It looks ultra creepy to me and to fans of the original, it certainly looks familiar doesn't it? 'The Evil Dead' remake is directed by Fede Alvarez and written by Diablo Cody, look for it in theaters April 12th of 2013!
Next up is the remake to the 1976 Stephen King based classic 'Carrie.' This time around Chloe Grace Moretz will be stepping in for Sissy Spasek in the title role and Julianne Moore will play her infamous mother. Now that's a cast I can get on board with! While no footage from the film has been showcased just yet we have our first look at the teaser poster for the film, and it's certainly bloody. Check it out below.
Talk about a great poster! It absolutely matches the theme of the movie, no one knows unpopular Carrie's name, but after the prom they certainly will! We also have the footage from the Comic Con panel of the film featuring director Kimberly Peirce and stars Chloe Grace Moretz and Julianne Moore! Apparently this film has put a lot more emphasis on the original source material (the novel) which is great news in my opinion. It's lengthy at 30 minutes long but definitely worth a watch in my opinion, check it out below: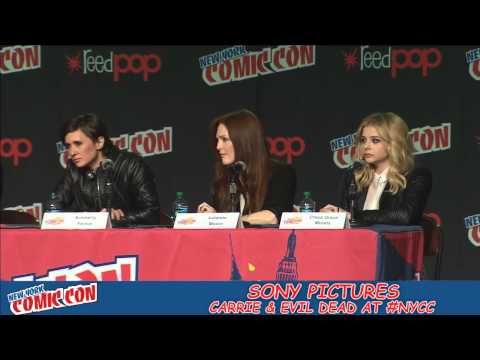 Directed by Kimberly Peirce and written by Robert Aguirre-Sacasa (from Glee?…) you can head to high school with young Carrie White on March 15th 2013.
What do you think of these remakes Banters? And which are you most excited for?
Comments :
Post a Comment
|
Topics :
Remakes
,
Uncategorized
|
Tags :
carrie 1973
,
carrie 2013
,
carrie remake
,
carrie remake poster
,
chloe grace moretz
,
evil dead
,
evil dead 2013
,
evil dead movie
,
evil dead original
,
evil dead remake
,
evil dead remake photo
,
Horror
,
Horror Movies
,
horror remakes
,
Julianne Moore
,
new york comic con
,
new york comic con 2013
,
remake of carrie
,
remake of evil dead
,
Stephen King
Leave a Reply