Posted by Alia Haddad on November 30, -0001 at 12:00 am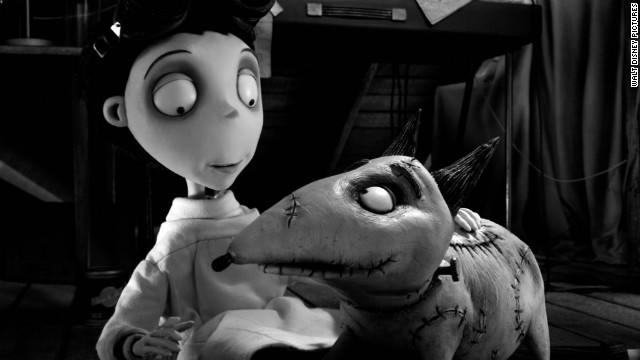 I know it's a bit late in the game to review Tim Burton's Frankenweenie on account of its early October release date. But I finally got around to seeing it, and I figured, "Hey, it's still 2012, right?" So with one more day to go, here it is: Frankenweenie, the Burton stop-motion passion project that was based off of his own short movie that he made way back when in 1984, was a very fun movie to watch. Granted, I would be lying to tell you if I my actual state while watching the movie wasn't a sort of tired delirium, but I feel very certain in my assertion that I thoroughly enjoyed Frankenweenie.
How could I not? First off, Frankenweenie is about a slightly-strange boy who figures out how to bring his dog back to life. Then there's the cast. With a slew of famed voices like Winona Ryder, Catherine O'Hara, and Martin Short, all anyone would want to do is close your eyes and listen to these sweet-voiced actors talk.
But luckily, shut my eyes I did not, which means I can tell you with all certainty that Frankenweenie was also such a good-looking movie. I do not say this lightly: Frankenweenie had as much to offer aesthetically as it did in terms of acting, plot, and dialogue. And thank God. I mean, this is a stop-motion animation picture filmed in black and white. If the look of the movie wasn't so nuanced and amazing, then the black and white color scheme could have come off as trite. Luckily, we only got good. And good music to boot!
Overall, I am thoroughly impressed by Burton's latest project. I mean, we all know just how bad Dark Shadows was. Hopefully, he'll keep 'em coming in 2013!
One Comment
Leave a Reply