Posted by Alia Haddad on November 30, -0001 at 12:00 am
So, there has been one "what were you thinking!" movie on my mind as of late, and I feel like it's not really my fault. Rather, I am not constantly thinking of this movie, I just keep being inundated with reminders that this movie is actually going to happen. The trailer seems to be everywhere. When I saw Spring Breakers, while The Bling Ring trailer was the best part of the movie, this trailer was the worst part of the movie. The upcoming film's actors somehow keep turning up everywhere I turn. And now, this: a newly released clip on Youtube.
What movie am I referring to? Oh you know, the Michael Bay directed (of course) Pain & Gain, starring Mark Wahlberg, Dwayne "The Rock" Johnson, Rebel Wilson, Anthony Mackie, Ed Harris, and Tony Shalhoub, about a group of body builders who decide to seek revenge on their gym-boss hot shot. It's just, what?!
First, why did this movie get made? I am surely not the only person in America that believes that Michael Bay should be stripped of all his movie-making rights, especially after that last Transformers installment. I kind of get The Rock starring in this movie, but Mark Wahlberg can get a better movie than this, right? Maybe he just had some bro-time to kill in between the Entourage show and its feature-film debut. And Rebel Wilson?! Say it ain't so. I had hoped that my Bachelorette/Pitch Perfect break-out star eternal crush would have had better sense (and given better roles) than this.
Second, why is it getting so much press? Yes, there are some semi-credible actors in this flick, Ed Harris being the primary example, but I just do not understand. The movie looks absolutely terrible, the plot unintelligible, and the acting horrific. WHY!
Third, what?! I just cannot wrap my head around this one guys. This was true when I first read the synopsis, remained true after my first (second and third) viewing of the trailer, and especially true after the clip below was released this weekend. Do you understand? If so, please explain.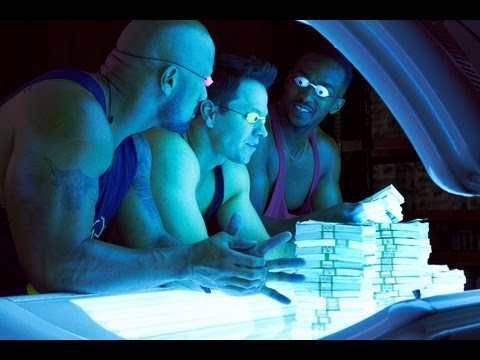 Comments :
1 Comment
|
Topics :
Rants
|
Tags :
Anthony Mackie
,
Bachelorette
,
Dwayne "The Rock" Johnson
,
Ed Harris
,
entourage
,
Mark Wahlberg
,
Michael Bay
,
Pain & Gain
,
Pitch Perfect
,
rebel wilson
,
Spring Breakers
,
The Bling Ring
,
The Playlist
,
Tony Shalhoub
,
Transformer
,
Youtube
One Comment
Leave a Reply