Posted by Alia Haddad on November 30, -0001 at 12:00 am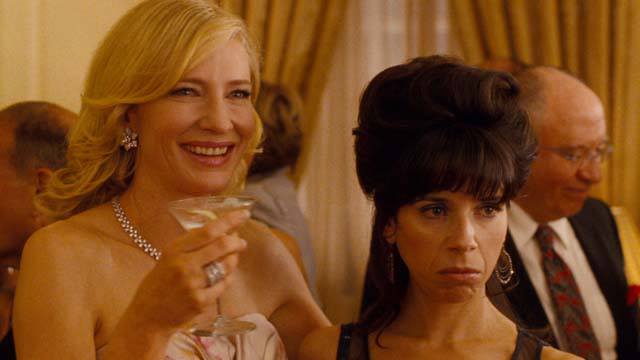 Woody Allen's Blue Jasmine was an obvious movie choice for me to see. I mean, no it is not a story about a woman going to a Jane Austen immersion camp (that I loved), but it was a dark comedy about someone spiraling downwards. And that someone was played by Cate Blanchett, not to mention that that dark comedy was directed by Woody Allen. There was just no way I wasn't not going to see this. So, after a couple false starts, I finally made my way to the Angelika to see this case study in how to effectively break down a character.
Proving my initial gut reaction correct, Blue Jasmine was great, albeit not entirely easy to stomach. One of Allen's finer films as of late, Blue Jasmine tells the story of uptight New York socialite Jasmine (Blanchett) who moves in with her sister (Sally Hawkins) in San Francisco on the wake of a financial scandal and a bitter divorce from her husband (Alec Baldwin). Also co-starring Peter Sarsgaard and Louis C.K., anxiety-driven (and often mean) Jasmine attempts to adjust to a less structured life.  Just briefly recapping the plot and listing the actors involved is leaving me foaming at the mouth.
And Allen definitely knew what he was doing. While the movie overall was quite good, two things really stood out as extraordinary: the acting and the character development. No one expects Blanchett to make a bad movie and especially to not shine in a role, and luckily Blanchett did not stray away from norms. To say she was excellent as she so fully transformed into this character would be an understatement. Blanchett definitely deserves all the accolades, but will she get them? I'd bet on no. First, this is considered a comedic role (yes, it's more dramatic than not, but Allen tends to get billed as a dark comedy master). Second, this was released during the summer. Third, there are a slew of biopics coming up this year led by women. If one of the women playing Princess Di doesn't get an Oscar, then I'm sure Meryl will. The other acting too should not be overlooked. Hawkins similarly shined and balanced out Blanchett nicely.
This all leads to the character development. It was excellent. Every minute that goes by the viewer picks up on different things, finally forming portraits of realistic, complex people. This is the way that all character development should be done. Take note.
SEE IT.
Leave a Reply